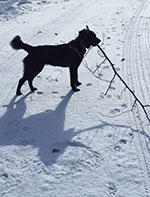 BARKLEY
Canine Professional
---
Barkley is the newest dog on the farm – arriving from Texas the fall of 2016. She is the smallest dog we have had here – weighing only 40 lbs. But that doesn't stop her from playing with the others or scaring the wildlife away. She and Jack are best friends and can often be seen playing together. Porter is eternally grateful for Barkley as he can finally get some rest!
---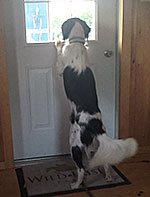 JACK
Canine Professional
---
Laura drove all the way to Indiana to pick up Jack. The farm hasn't been the same since his arrival. Jack loves adventures and meeting new people. His nickname is "trouble" and he gets himself into plenty of it! He is pretty well known at the emergency vet…But at the end of the day, he brings joyful enthusiasm to all that he does. Life would be a little more peaceful without Jack around, but it would also be a lot more boring too!
---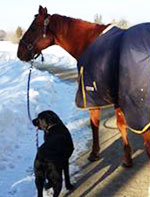 PORTER
Canine Professional
---
Porter is a 75 pound, black English Labrador. He is very friendly and a big mush. His best friend is Kayla and anyone with treats. Porter gets along with with everyone, and everyone likes Porter.
Overall health/specific ouchies: No issues
Bio/Story:
Arrived in WIF as a 4 month old puppy.  He has helped teach Kayala to be social with people and dogs.  Porters' job and mission in life is to greet everyone and be a therapy dog extraordinaire.  He is always looking for food and often willl help the ponies finish their breaksat. 
---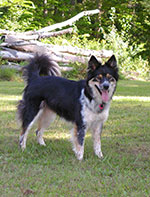 KAYLA
Canine Professional
---
** Kayla escaped from our car in downtown Portsmouth, NH, late September 2015. Please call if you see her, do not try to approach her as she will run. Kayla is a brown and white Australian Shepard cross with pointy ears and multicolored fur. She is pretty skittish and is best friends with Porter. Kayla has a difficult time getting along with any new people or dogs. She is learning how to make new friends. Overall health/specific ouchies: No issues
Bio/Story:
Kayla is a rescue dog from Arkansas. Since arriving in 2008 at WIF, Kayla has  been learning how to be socialize appropriately with other dogs. She often relies on her best friend, Porter, to be brave.  She enjoys rolling around in poopy things.  She is learning how to meet new people and her favorite pastime is eating Pup-Peroni.
---