Laura Peterson
Founder, Equine Therapist
---
Laura started riding when she was nine years old. As a child, she participated in pony club, competed in local horse shows, and trained ponies for others. In college at the College of Charleston, she continued to ride finding a job at a local trainer's working with their babies and preparing them for the race track. Following graduation, Laura stopped riding and focused on starting her career working with at risk youth at a residential program in Alabama.
It wasn't until she moved to New England that the bug to ride returned. Shortly after, she bought her first horse, moved to New Hampshire, and began graduate school. During graduate school, Laura taught riding lessons to beginners. She also began eventing, which she continues to do today. She has competed up through the training level. Upon graduating with an MSW, Laura began working for the Spurwink School, working with children who failed at public school and had been placed out of district. She had worked there for 6 years, working with children with a multitude of diagnoses and learning disabilities.
In 2008, Laura decided that it would be a good idea to blend her love for horses with her work with children and Wild Irish Farm was born. Laura balances her time between all three programs and competing all of our horses in local shows.
---
Sara Sullivan
Equine Therapist
---
Sara Sullivan is a Licensed Mental Health Counselor in private practice who operates out of Wild Irish Farm and also has an office in Dover, NH. Sara specializes in working with children on the autism spectrum, youth struggling with gender identity issues, and anxiety disorders.
Sara worked as a therapist and served as a team leader at Seacoast Mental Health Center. Sara has worked with clients ages 3-21 around a variety of skills including reducing anxiety, managing moods, and developing social skills. Sara is trained in Trauma-Focused Cognitive Behavioral Therapy, Helping the Noncompliant Child, and Applied Behavior Analysis.
Prior to working on the Seacoast, Sara was the Teen Program Coordinator at the YWCA of New Hampshire where she facilitated support and education groups for teen girls. Sara's passion for Equine Facilitated Psychotherapy began in high school when she volunteered at Horse Power. Sara went on to become an intern at Reins of Hope in New York. Sara completed undergraduate and graduate research in Animal-Assisted Therapy.
Sara graduated from Elmira College with a Bachelor's degree in Psychology, Anthropology, and Human Services. She completed her Master's in Mental Health Counseling at the University of New Hampshire. Sara has two bunnies, Lou and Alice, who love to be snuggled and a parrot named Kiwi who loves to talk and meows like a cat!
---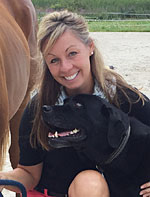 Christine Williams
Equine Therapist
---
Christine has been riding since the age of 8. She has been riding and competing for the past 25 years in eventing, dressage, and even endurance trail riding. Further, she has been an instructor for the past 20 years and has helped dozens of students learn how to compete safely in eventing and dressage. 
Christine has always had a passion for working children in the great outdoors. She graduated from Plymouth State University with a Bachelor's degree in Interdisciplinary Studies with a focus on Therapeutic Recreation. After she graduated, Christine began working with children as an Assistant Behavior Specialist at a local middle school. During her free time, she continued to coach, teach, and train in the horse world. After several years, Christine decided that it was time for her to return to school so she could do more clinical work with children. Soon after Christine began working for Seacoast Mental Health as a Child and Family Outreach Specialist and completed her degree from Walden University as a Clinical Mental Health Counselor. Christine completed her clinical internship here at Wild Irish Farm. She was excited to be able to combine her love for her horses with her clinical work with children. Both she and the rest of the staff at Wild Irish Farm are thrilled that she has chosen to remain here following her graduation. We are all looking forward to watching Christine continue to grow in both of her passions and are pleased that our clients will benefit from her development!
---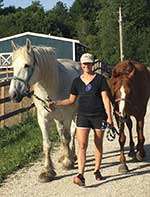 Kate Dargin
Barn Manager
---
Wild Irish Farm could not function as smoothly as it does without our barn manager, Kate. She came to us as a freshman in college looking for a part-time after school job. Since joining our team, she has changed her major to social work and has plans to work in this field after she graduates and pursues her master's degree! In the meantime, Kate's primary job is to take care of the ponies while the rest of us are working with our clients. The ponies are forever grateful as they no longer have to wait for dinner until we are finished with our busy days. As Kate has grown into her position, she has rapidly become an essential member of the team – taking care of all the little details that need tending to on a working farm.
---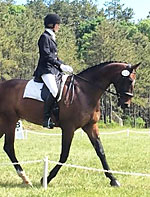 Kate Homan
Riding Instructor & Coach
---
Kate has been riding and competing for over twenty years. Her love for horses, riding and teaching is evident in her positive, energetic teaching style. As an instructor, Kate aims to create a partnership between horse and rider based on mutual understanding and respect. Kate's lessons are tailored to each student's goals with an underlying focus on safety and knowledge both on the ground and in the saddle. By teaching the students the reasoning behind the skills, she empowers students to make their own decisions, creating confident, knowledgeable and safe riders. Kate believes that learning to ride horses taught her invaluable life skills and she strives to pass on these lessons to her students. 
Kate's primary discipline is Eventing. She has also competed in dressage, jumpers and hunt-seat equitation. Kate's diverse riding background has given her an appreciation for a correct, independent and balanced position, which gives her students a solid foundation that can be applied to many disciplines.
---