We are very careful about the horses that we pick for our program. We look for horses that are not only safe for all of our clients, but can also push the kids to develop their skills with equines and learn more about themselves.
We work with our horses to help them become the best versions of themselves that they can be. They are ridden weekly by our staff to help them develop their training, exercise their minds, and be more physically and mentally available to the kids.
We also compete our horses during the summer. Most compete in Eventing – which is similar to a triathalon. Getting our horses off the farm to cope with the pressures of competition helps them better deal with the stress associated with taking care of a variety of children.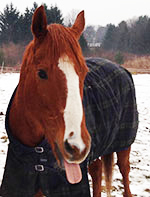 BOUNCE
Equine Professional
---
Bounce is a 16 hand Off the Track Thoroughbred and was born in 1999. He was not a very fast race horse and managed to win only one race! He enjoys spending time with children – particularly when they are grooming him. Bounce is actually not very bouncy – which makes him an excellent horse to learn how to trot on. He has done quite well in the dressage ring for most of his competitive career. However, last year, we discovered that Bounce really likes to jump. He began his eventing career in 2015 and has come home with many blue ribbons! Bounce's best friend is Indy. You will often find them hanging out together in their paddock.
---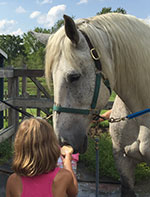 INDY
Equine Professional
---
Indy is by far our biggest horse. He is a 17.2 h Percheron and weighs about 1700 pounds. Indy was born in 1999. He came to the farm when he was 14. He had been bred to be a pulling horse at the fairs and later to be a riding horse. Indy is scared of everything – including his image in the mirror. He doesn't know that it's himself! He relies on Bounce (his best friend) to be brave. Indy is so scared of other horses that we can't compete him at horse shows. He did have a field trip to another farm with Bounce last year. He did great and didn't break anything – not the farm or the trailer! We hope to take him on other field trips to help him be even more brave.
---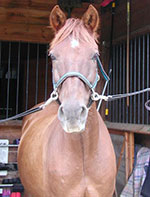 SAM
Equine Professional
---
Sam is a 15 hand Morgan. He was born in 1999 and joined the farm when he was 14. Prior to coming to the farm he was hanging out at a farm in Maine by himself. Since joining us, he has learned how to jump and has become a favorite among the kids. He is super excited about food and loves mealtime. He does not have any particular friends and seems content to be around the other horses without being overly social.   Sam has recently overcome his fear of water and ditches which has helped him be even more successful as an eventer. He is hoping to graduate from schooling events and compete in sanctioned events next year.
---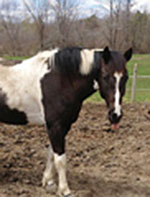 THEO
Equine Professional
---
Theo is a 15.2 hand Pinto. He was born in 2008 and joined the farm when he was 5. Theo has been working on how to use his body more effectively! When he first came – he looked like an old man trapped in a young horse's body. He can still be cranky at times when we ask him to do things that he thinks are hard. The kids have also been helping him with this! It has been great practice for them to ask a horse to do something that he doesn't want to do – much like their parents asking them to do chores! Theo's best friend is Oops. You can often find them playing with each other in the paddock. Sometimes they look like they are kissing…but like children – their play can often get too rough and stop being fun. They always make up after though…
---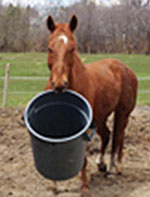 OOPS
Equine Professional
---
Oops is a 15 hand Quarter Horse. He is owned by Christina (Laura's stepdaughter) and spent a year at college with her. Because of that he is the second most highly educated horse on the farm! Oops loves to go fast and is great at teaching kids how to canter and how to ask a horse to slow down. Christina has competed Oops at many events and has done well with him. However, as she has focused on a career, Oops's competing days have taken a back seat. He enjoys playing with the kids and getting ridden frequently.
---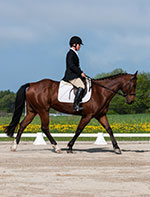 GULLIVER
Equine Professional
---
Gulliver is a 16 hand Quarter Horse Cross who came to the farm in the Spring of 2015. We have spent the past year getting to know him and learn more about what makes him tick. Gulliver can be fearless when he is ridden by somebody he knows and trusts to be brave. However, he can be very sensitive to his rider and can react when they get scared. We believe that he will be a wonderful horse to teach kids how to cope with their anxiety. He initially struggled to make friends at the farm as everybody seemed to pick on him. However, he and Carson (Laura's husband's horse) have become best friends.
---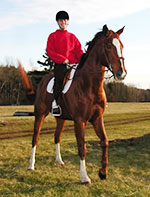 CODY
Equine Professional
---
Cody is a warmblood and was born in 1998. Unfortunately, he has retired from riding due to a bad foot. He can occasionally walk with children on his back. At times, Cody has struggled with his retirement as he wants all the attention the other horses get. Happily kids will occasionally groom him and give him attention. He was Laura's first horse and competed up through the training level before he was retired. He does not have any particular horsey friends and prefers the company of people.
---