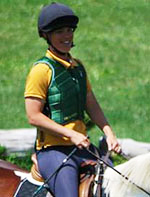 Laura Peterson
Founder, Equine Therapist
---
Laura started riding when she was nine years old. As a child, she participated in pony club, competed in local horse shows, and trained ponies for others. In college at the College of Charleston, she continued to ride finding a job at a local trainer's working with their babies and preparing them for the race track. Following graduation, Laura stopped riding and focused on starting her career working with at risk youth at a residential program in Alabama.
It wasn't until she moved to New England that the bug to ride returned. Shortly after, she bought her first horse, moved to New Hampshire, and began graduate school. During graduate school, Laura taught riding lessons to beginners. She also began eventing, which she continues to do today. She has competed up through the training level. Upon graduating with an MSW, Laura began working for the Spurwink School, working with children who failed at public school and had been placed out of district. She had worked there for 6 years, working with children with a multitude of diagnoses and learning disabilities.
In 2008, Laura decided that it would be a good idea to blend her love for horses with her work with children and Wild Irish Farm was born. Laura balances her time between all three programs and competing all of our horses in local shows.
---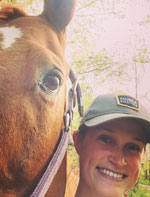 Kristen Skerry
Equine Therapist
---
Kristen Skerry began riding at 10 years old, quickly becoming a "barn rat", spending lots of time working to earn more time on horseback. Kristen quickly gained experience working with and caring for horses of a variety of ages, breeds, and personalities. Kristen has been farm sitting and teaching riding lessons for over 10 years.
Kristen earned her Bachelor's in Psychology with a minor in Equine Studies from the University of New Hampshire. As a part of her bachelor's degree, Kristen interned at Dover children's home, a residential treatment center that provided services to adolescents and their families. After graduating, Kristen continued to squeeze in horse time while working at Community Partners as a Functional Support Specialist, helping children between the ages of 3-20 with a variety of mental health needs. During this time, Kristen realized that she wanted to return to school for her Master's degree, to gain the opportunity to help children with mental health needs using horses. Kristen returned to the University of New Hampshire to complete her Master's in Social Work. During Kristen's graduate education, she worked as a barn manager, which provided a flexible schedule that enabled her to participate in her classes and internships. Kristen completed internships at both SOAP, an intensive outpatient program for adults struggling with substance use disorders in Haverhill, MA, and Wild Irish Farm, which she found was a perfect blend of her passions for mental health and horses. Kristen is excited to be a part of the Wild Irish team and continue to grow both her clinical and equestrian skills!
---